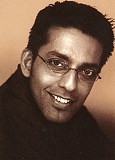 Ace couturier, choreographer, fashion stylist, design professor, dedicated perfectionist and undoubtedly one of India's most important designers.

Since his graduation from the Australian Technical Institute of Fashion Design and his further training at the Fashion Institute of Technology, New York, his career track has been an eclectic one, forging into every related area of fashion - a voyage of self-discovery that finally culminated in a return to base - Fashion design. International labels have pursued him and yet he returned to India in early 1980, because "I am Indian. I was born with colour and an innate sense of the exotic - India has it all".

Today, Hemant is the Fashion Director and Head Designer at Sheetal, India's leading fashion store.

As India's most in-demand show director and choreographer, Trevedi has presented some of the most breathtaking fashion presentations, both in lndia and overseas, including countries such as the U.K., U.S.A., China, France, Germany, Egypt, Mauritius, Sri Lanka, U.A.E. and the Far East. He has launched the careers of hundreds of fledgling models and turned many into virtual super-stars. He has also been voted as 'Designer of the Year - 2000' in India.

It is said that the advertising world and particularly film directors, art directors, models and photographers are totally relaxed when Trevedi is the stylist because they know that the perfectionist in him will take care of every minute detail.

It is this keen eye for detail and his ability to concentrate on many areas at one time, that have made every one of his creations a prized possession. He is the man who has created winning wardrobes for several former Beauty Queens and in particular for Miss World 1994, 1997, 1999, 2000, Miss Universe 2000 and Miss Asia Pacific 2000.

Trevedi's contribution to the Indian fashion scene cannot be denied. Being one of the first professionally qualified designers in India, he has a feel for the Industry and its growth. While he does not seek limelight, it is equally difficult to ignore him. Many a fashion critic has said that Hemant has the uncanny ability to predict a 'look' well ahead of time.

Hemant becomes the first and only Indian designer invited to present his ideas for Spring-Summer 2002 at the August "CPD show" and the "White and Night show", as well as being part of "Collection Premiere Düsseldorf" - the largest and most important ready-to-wear fair in the world.
More about Hemant Trevedi: www.sheetalindia.com/sdshemant.htm