LET VEGETARIANISM GROW ON YOU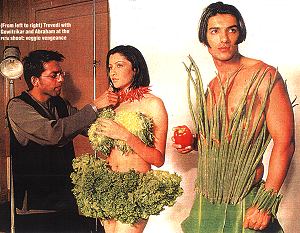 Salad dressing
by Anna M.M. Vetticad

From deliciously rich gowns for a fashion show in Munich, to a lettuce-and spinach concoction for a veggie campaign back home, it's all happening for designer Hemant Trevedi

John Abraham had more than a fig leaf for cover that day. He had banana leaves. Several of them strung together into a skirt. But why was he offering a red pepper to Aditi Gowitrikar? Adam didn't do that for Eve.
No reason really, except that designer Hemant Trevedi said he should. And on a warm afternoon in Delhi's Taj Palace hotel last week, the two top models were willing to do just about anything for the man. Trevedi - roped in by the global group People for the Ethical Treatment of Animals (PETA) for an ad campaign in India - was busy arranging vegetables on the models. A lettuce-and-spinach skirt and top, even a chilli necklace for her. For him the banana the leafskirt and a drumstick breast plate. Straight out of the hotel freezer.
For a man well past his salad davs, it's a pretty unusual assignnent. "I don't know any other designer in India who's come out with his own line of vegetables, " chuckles PETA spokesperson Jason Baker. Not that Trevedi's new to innovation. He is preferred couturier to a string of Miss Indias, fashion director at The Sheetal Design Studio in Mumbai, a sought after choreographer, and professor at Mumbai's SNDT University. Just back from representing Asia at the Longines fashion show in Munich, his quirky concoctions on
| | | |
| --- | --- | --- |
| | | |
| . | | |
| | | |