diVisional paradoX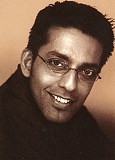 Hemant Trevedi
As an introspective designer, I have always been attracted to an idea
that is against the norm, and yet retains the spirit of the human persona.
In this century, I find myself yearning to break free yet again,
thereby getting rid of colour, and starting afresh with a new canvas and palette.
My fashion statement for spring-summer 2002 is called 'divisional paradox'.
The purity of ivory is juxtaposed with design details that are against
what is normally percieved as a challenge in garment design... the horizontal line.
Delicate rows of beading, are embellished on sheer and opaque weaves,
banded together to form a shape that best illustrates my thought process,
and leaves the weaver feeling totally glamorous and eternally special.