Final Comment
I hope I have given you an insight into this topic as well as possible, although this report is not quite complete. This is because the results of the inquiries have not yet been published and it is feared that the official MAIB report of the grounding of the Sea Empress, which is supposed to be made public in the near future, will not bring all true facts to the light.
I also want to draw attention to the fact that, even if the consequences of the Sea Empress disaster are not necessarily visible to our eyes, they are nevertheless present and long-lasting. When I visited some beaches around Pembrokeshire last summer, I was very glad and relieved that I could not see any oil anywhere,69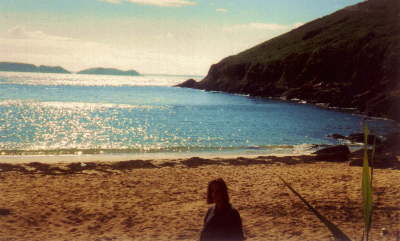 but I know that appearances are deceptive. A large amount of oil is still there, hidden beneath the surface - under the sand, on the seabed, etc.
At the present time, Japan has to contend with the same problem. At the beginning of January, an oil tanker ran aground and broke apart, spilling its contents over an area of about 300 kilometres. Lessons have to be learned at last, to make sure that no further disaster of this kind will ever happen again. Efficient safety measures will have to be taken in future and people must be a lot more careful about the claims they make on the environment. Thus, hopefully, one day we will be friends of our earth at last.
---
69 As you can see, this beach (Watwick) looks clean and free of oil. It is the nearest beach to St. Anne's Head, where the accident took place.
---
Homepage: http://www.asamnet.de/~bayerj/ eMail: Josef.Bayer@asamnet.de
Last Updated: 29-01-10