7.4 The Consequences for the Tourist Industry
Pembrokeshire's thriving tourist industry was hit very badly by the disaster, and all involved in this industry for their livelihood were horrified to see the transformation of the country's beautiful golden beaches into black oily graveyards.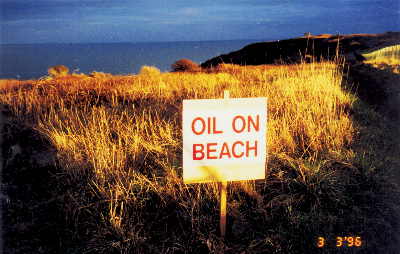 It is claimed that the beaches are now clear from oil. But environmentalists and people like Terry Leadbender say that the oil is still there ("If you went down to Tenby with a spade and started digging you would find oil and you wouldn't end up to be a rich Arab."55 Less than 3,000 tonnes of oil have been recovered, so about 90% of the Sea Empress's lost cargo is still somewhere in the environment, as the programme "Panorama" reported. Indeed, during the storms of October 1996, newspaper reports stated that a lot of oil from the spill had again been washed ashore, having been stirred up from the seabed.56
In August 1996, I talked to Mr Denis Wyatt of Milford Haven's tourist information centre. He said that it still remained to be seen to what extent tourism had suffered, as the season was not yet over. He estimated that business had gone down by about 10% to 20% and he was hoping that it would revive again. Surprisingly, after the disaster had happened, there was a real boom, even if this sounds contradictory. There were people coming from all over the world - journalists, camera teams, marine biologists, etc. - in order to be on the spot. The hotel managers and restaurant owners I talked to confirmed this and said that, after the accident had occurred, their places were overcrowded and they had even made great profits. This, of course, was only the immediate effect and had nothing to do with the usual holiday bookings. The oil spill had taken place at a very inconvenient time indeed, as most holiday makers start booking their places for their main holidays in March. So as people knew that Pembrokeshire beaches were covered in oil, many arranged their holidays elsewhere.
The bookings for the next months stopped totally. The water sport business including canoeing, water skiing, windsurfing and surfing suffered immensely. So many water sport events and courses were cancelled, as they were not sure about the future quality of the water and if it would be safe at all to go into the water. By now the water has been declared to be clear again and beaches have been cleaned very well on the surface at least, especially the main tourist beaches. So people have started booking again and business has begun to recover a bit.
Mr Wyatt also mentioned that, as a result of the fantastic summer weather in 1995 and the good impression Pembrokeshire had thus made on the tourists, who saw the region at its best, many businesses were heavily in debt with their banks, as they had taken out large bank loans in order to expand and develop, ready for the boom they hoped for in 1996. They had expected to be able to repay the loans easily. They had never reckoned with this disaster happening and they would probably now have immense problems in surviving. By the time the compensation money was paid out to them - if it was at all - it would be too late for them and they would have been ruined. Many would at least make losses.
Mr Wyatt said that some would suffer more, some less. Some would be hit to a degree of 50%, others only to 5%. The main branches to be affected would be the water sport centres, the hotels, guest houses and caravan sites. Beach towns such as Tenby might recover more quickly, as a great effort had been made to clean its sands. It is a unique tourist centre, which people like to visit even without going to the beaches, as it offers a range of other holiday amenities and activities. Indeed in the meantime, Tenby, the beach, which attracts the most tourists, has even received the "blue flag", an award which is supposed to prove that this beach is clean.57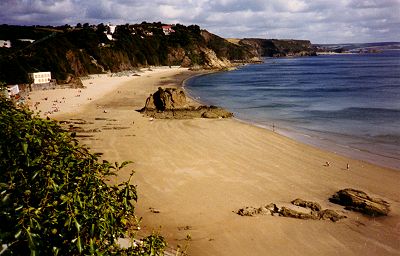 Tenby
Since the disaster there has been a huge campaign made by the tourist board, in newspapers and magazines as well as on television to demonstrate that the beaches of Pembrokeshire have been cleaned up and can be safely visited again. They have also endeavoured to make it clear that the North Pembrokeshire beaches escaped pollution. So hopefully, as the weather in 1996 was quite good, the next main tourist season in 1997 will no longer be negatively affected by the Sea Empress oil disaster and the tourist industry will recover completely.
---
55 Interview with Terry Leadbender (tape enclosed!)
56 cf. Tanker oil washed ashore, in: The Times, 31-10-96, General News, News in Brief (ref. doc. n° 11)
57 cf. Woodman, P., Blue Flag to fly proudly at Tenby as clean-up beats oil-spill pollution, 05-06-1996 (ref. doc n° 12)
---
Homepage: http://www.asamnet.de/~bayerj/ eMail: Josef.Bayer@asamnet.de
Last Updated: 29-01-10