1. The Importance of Pembrokeshire
It' s hard to describe the beauty of the wonderful region of Pembrokeshire in South Wales if you have not seen it yourself. It is characterised by its outstanding coastline, which is probably one of the most beautiful and interesting of all in my opinion.
Most holiday makers who visit Pembrokeshire go there because of the magnificent coastal scenery, the coast paths with their spectacular views, which are ideal for walkers, and of course because of the safe sandy beaches for family bathing and enjoyment.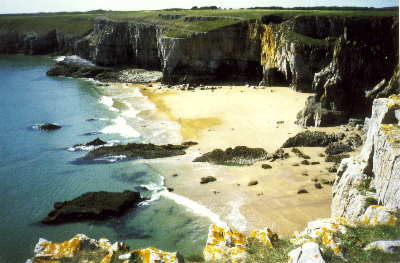 Beach near St. Govan's Head 1
But the coastline is also of great scientific interest. It is an open coast that provides, with its rocky shores, sandy bays, pebbled beaches, coves, great mud flats and also rugged offshore islands, ideal living conditions for various kinds of wildlife.
There are thousands of different species that can be found in all the varied coastal ecosystems and many of them are rare and exceptional, such as certain kinds of corals, jewel anemones, sea fans, etc.2 Mammals, such as seals and dolphins, all kinds of birds and fish can also be found here. The fishing industry profits from this as the fishermen exploit fish and shellfish in very high numbers. This is of great importance to Pembrokeshire.
But it is also here that thousands of birds have their breeding places. Apart from the various kinds of gulls, many other species are to be found: guillemots, Manx shearwaters, cormorants, scoters and many more. The heather and gorse covered islands of Skomer, Skokholm, Ramsey and Grassholm are the home of many very rare kinds of birds such as the famous puffins and gannets. This has led to the protection of certain parts of Pembrokeshire as Special Protection Areas under the European Birds Directive.3

This area is also where Britain' s only coastal national park is situated. The Pembrokeshire Coast National Park consists mainly of a narrow coastal strip from the Carmarthen border of Amroth in the south to Poppit Sands in the north. Urbanised seashore areas of the Milford Haven Waterway and Fishguard are outside it. The Milford Haven waterway, where the accident occurred, is a sheltered natural harbour (i.e. the natural conditions are such that it forms a safe 17 mile long stretch of water for ships to anchor for loading or unloading or to take shelter from storms). The Haven is surrounded by the oil refineries Texaco, Elf and Gulf and the BP oil depot. The oil industry, therefore, is obviously one of the most significant industries in this area.
---
1 Beach near St. Govan's Head; more photos of the Pembrokeshire coast: p. 28-31
2 cf. Sea Empress Environmental Evaluation Committee, Initial Report, July 96 (SEEEC Report), p. 6 (3.2)
3 cf. SEEEC Report, p. 6 (3.2.)
---
Homepage: http://www.asamnet.de/~bayerj/ eMail: Josef.Bayer@asamnet.de
Last Updated: 29-01-10